Easy Homemade Valentine "Bon Bons" for Less than $1.25 Each!
I love giving little presents any chance I get. (Thank you Valentine's Day!)
Tomorrow is my NALTA team's weekly clinic, and on Friday I'll be playing a pick up game at the Y. I decided to bring all my tennis friends little homemade (well, okay, mostly homemade…home-assembled) Valentine "bon bon" goodie bags.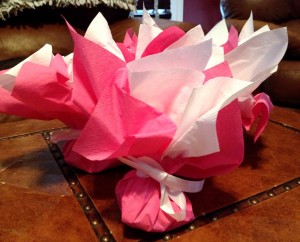 I thought it'd be a fun thing to share here because who knows? Maybe you'll be looking for an inexpensive way to give a lot of people presents one day too.
MATERIALS
Two different colors of napkins or tissue paper (I used guest-sized napkins. You could also stick with one color. I was just trying to make my gifts look a little more festive.) 
Candy (I chose 4 different kinds: Hearts, hugs, kisses and Sweethearts. But you could also bake something and wrap them in these too if you're talented that way.)

Dove Dark Chocolate Hearts, Hershey's Kisses and Raspberry Hugs, Sweethearts

Ribbon 
Time (They're not hard to put together but they did take me about 45 minutes to assemble them all. Of course, I was also distracted watching the Olympics at the time so I'm sure that slowed me down.)
STEPS
Put candy (or baked goods) in the middle. 
Gather up the sides and tie together with ribbon. 
So easy right?
COST
$14.27 for the candy (I didn't buy any on sale. This was sort of a last minute decision so I had no coupons on hand. I'm sure I could've spent less if I'd put more thought into it.)
$6.00 for the napkins (Again, if I'd thought to go to the dollar store I'm sure I could've scored a better deal.)
I already had ribbon on hand. That cost me $0!
Total = $20.27
TOTAL BAGS MADE
17
For a grand total of $1.19 per bon bon bag!
Not too shabby, if I do say so myself.