Anecdote Published in Woman's World
I'm very excited to share that a submission I sent in to the "Circle of Kindness" section of Woman's World was published in the March 10, 2014 issue, which went on sale yesterday.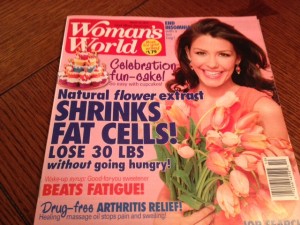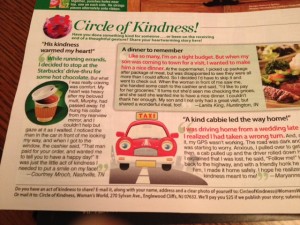 I'll never forget the day that kind stranger bought my hot chocolate. There's a little more to the story, though.
I kept seeing him eyeing me in his rear view mirror. I was touching Murph's collar, which now hangs from my rear view mirror. I figured he must be wondering why I kept doing that. Murph had only died just 2 days before. My heart was super heavy with grief. It needed some comfort and warmth, and a Starbucks tall hot chocolate seemed to be the TLC I was craving.
When the man kept watching, I got a little self-conscious and stopped touching Murph's collar. The line was long that day and moving slow. Then I noticed the woman in the car behind me was quite attractive. I decided the man in front of me must be looking at her, not me.
But then I pulled up to pay and the cashier said the man in front had paid for my order and told her to tell me to have a happy day and I burst out crying.
I wish I would've thought then to pay for the car behind me's order, but I was too overcome. I've paid for stranger's drinks before. Heck, I even paid for a veteran and his wife's dinner one night. I've never been the recipient of a random act of kindness like this though.
I really felt Murph's presence and "paws" in it. Oh, and the "Ho hey" song by the Lumineers had come on as I'd headed to Starbucks. The first time I ever heard it Murph was in the car with me. I don't know what we were doing. Maybe just going for a walk. But the lyrics made me think of how I felt about Murph and ever since I've always thought of him when I hear that song.
I really think that day he was trying to tell me, "Hey, mom, I miss you too, but even though I'm up in Heaven I still got your back, okay?"
Thanks, Murph. You keep proving to me what an amazing pup you were really were.