The Mid Court Crisis Meme
Well, it's that time of year again: Team Tennis Time Here in Middle Tennessee!
That means my life is nuts with NALTA and USTA leagues. The good thing is I get a lot of vitamin D and Fit Bit steps! (I love my little Fit Bit Zip. Keeps me honest about my activity!)
I'm the captain of my NALTA team. I'm not exactly sure what NALTA stands for, but I think it's Nashville Area Ladies Tennis Association.
Most teams have names and if not matching outfits, coordinating ones. The past several seasons we've been green with black in Fall and green with white in Spring. (Usually a green top with black or white skirts.)
This year we decided to give our team a makeover. That included changing our name from the Servivors to Mid Court Crisis and scraping the green/white/black in favor of pink and yellow, the hotter the better.
Well, when we were the Servivors I'd come up with a Tennis Superpowers mantra for us…as well as a binder cover for my paperwork. A new team name deserved the same.
I found the perfect image to use from The Commons on flickr.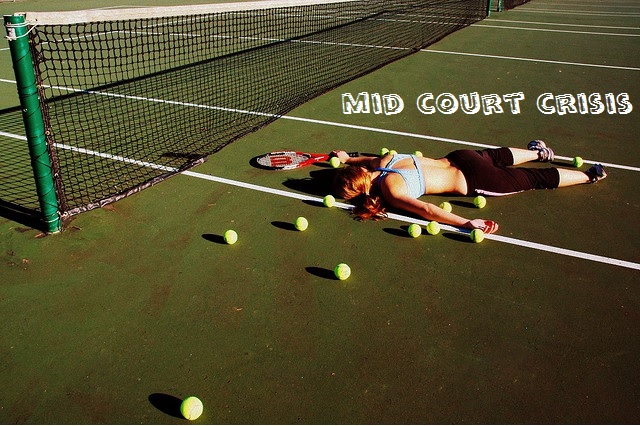 The hard part was matching it with just the right saying. Because I had a bunch that begged to go with it.
I ended up having a bit of fun pairing images with quotes and such, the result of which is this meme.
Which saying do you like best? (I ended up putting the Babe Ruth one on the binder cover.)
Disclaimer: In the interest of full disclosure, some of the above links are associated with one or more of my affiliate accounts. That means if you click through and buy anything, I receive a commission. For which this starving artist thanks you!