Chicken Soup for the Soul: My Very Good, Very Bad Cat
I'm extremely excited to announce that my story "Kitty Bites" was accepted for Chicken Soup for the Soul: My Very Good, Very Bad Cat. It will be released February 9, 2016.
I was over the moon when "The Bubble Bath" got accepted for Chicken Soup for the Soul: Home Sweet Home: 101 Stories about Hearth, Happiness, and Hard Work
. Not to mention astounded. I had been submitting for how many years?
Of course, I'm always hopeful with every submission that it'll get accepted no matter what I'm submitting or to where. However, rejections seem to be the rule and acceptances the exception. But when an acceptance happens? I always have to read it several times to make sure I'm reading it right.
My heart literally stops for a beat when I see correspondence coming back from wherever I've submitted to. It usually only comes from Chicken Soup for the Soul when it's a possible acceptance. Both times so far I was notified my story was under final consideration. Then, later, I received a follow up email confirming my story would appear.
Again, both times it's completely blown me away. Like I mentioned above, I've been submitting for how many years now? I got to the point where I didn't think I'd ever crack the market and I've now accomplished it twice.
But I'd like to do it at least once more if possible. Of course more than that would be awesome, but now I'm on a mission.
You see, Chicken Soup for the Soul gives contributors badges to put on their websites. Like the one below. (Which you may have also noticed in my sidebar. I'm very proud of it.)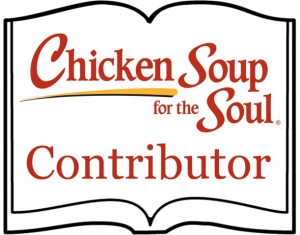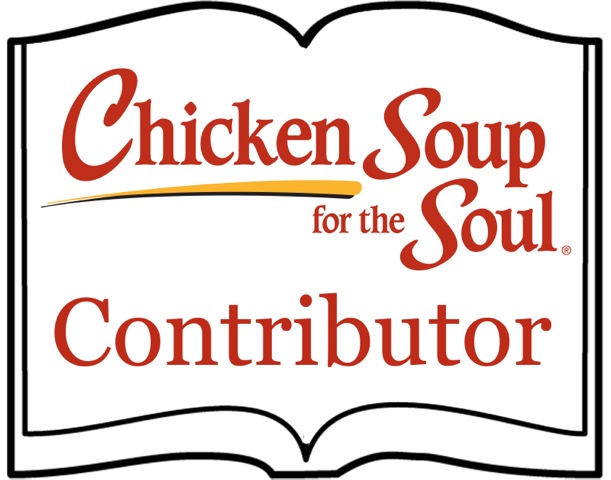 They have different badges for different accomplishments. I'd like to get the "next level up," so to speak, which is one for when you've had three stories published by them. (That's the competitor in me. Always striving for the next achievement.)
But for now I'm basking in the glory of a second acceptance. I thought maybe somehow I had slipped past them the first time and it was a fluke I was accepted. But to have two? Well…now I'm thinking I really did do something right.