I Won a Christmas Decorating Contest?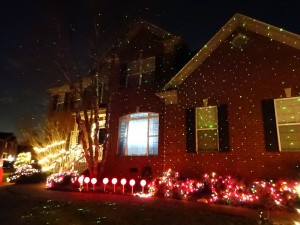 I've entered and participated in a lot of contests in my life, but never anything having to do with decorating. Fishing, writing, maybe even some arts ones (when I was in grade school), but anything house or cooking related? Naw. Not my bag.
Mainly because I'm not one of those people. You don't walk into my home and see it all pulled together with everything from the fabrics and paint orchestrated to make it look a certain way. I've never been a matchy-matchy or coordinated type of person like that.
Of course I want things to look nice, but I also like to be casual and comfortable in my own home. If you're invited in, I want you to feel that way too. (Although, if you drop by you'll likely be treated to what I consider organized chaos, but which Wayne considers just plain messy and can't I clean/straighten up already?)
Anyway, a few years back new people got on our HOA and instituted a Yard of the Season thing where three times a year they award the honor on houses with the best kept yards and/or displays.
I was really, really hoping I'd win the Fall one this year. I had so much fun decorating our house for Halloween and had never done it up bigger.
My favorite decoration of all was the AtmosFX Bone Chillers digital window decoration. All season long people stopped to watch it, and on Halloween? Compliments galore from the trick or treaters. But my favorite compliment was the letter one of our neighbors sent us: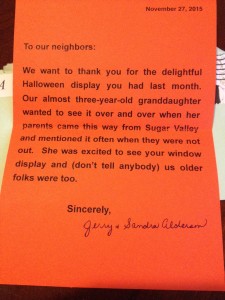 Wayne had not been happy I'd purchased a projector, which I wanted for the AtmosFX digital decoration, but also because I had it in my head we'd have backyard outdoor movie nights. (Which we did. One so far.)
However, he was enchanted by the Halloween decoration too. So much so he, for one of the few times in our marriage, encouraged me to get the Christmas one too. (At the time AtmosFX.com only had the Santa's Visit one. Now they also have The Night Before Christmas.)
I didn't want it at first though. I was going for a candy theme in the front yard and didn't think Santa would fit in.
Then something weird happened. I got bit by the decorating bug.
Products from catalogs beckoned to me. So did products on the shelves in Target, Home Depot and Lowe's. Even a As Seen on TV ad for the Star Shower projectors beguiled me. Fences, bushes, and even the house itself started looking less like what they were and more like inviting canvasses to create upon.
Before I knew it, I'd amassed Lawn Lights, Star Shower Projectors (3 of them), a outdoor music outlet box, and more strands of lights to bedeck bushes I hadn't in years past. I even bought an inflatable, which I never thought I'd do. Some catch my eye because they're kooky and crazy and make me laugh. (On the Haunt Jaunts Halloween Scareporium I feature Christmas Inflatables that particularly tickle me. My all-time fave is the Reindeer Clean-Up Crew.) But in general I think they're cheesy. However when I spotted the Hot Cocoa Hot Tub, it was a must have. I'd never seen an inflatable so perfectly matched to my sweet theme.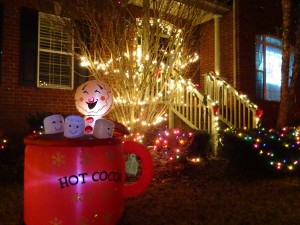 Since the weather was so mild in late-November, I looked for an excuse to be outside. Decorating was a great one. I had a lot of fun seeing how all my old Christmas decorations and new ones could be merged into a new and improved display.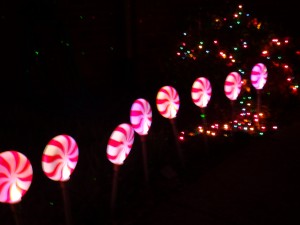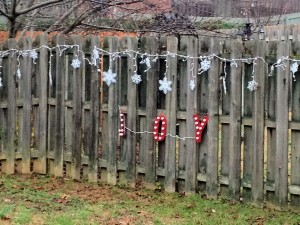 As I was doing that, I suddenly saw it. I could envision how the Santa digital window decoration would fit…and be so fun!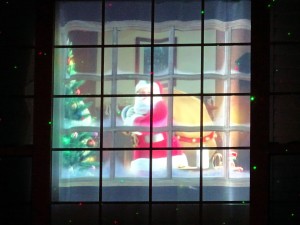 I didn't aspire to win. In fact, as I was decorating I didn't know they'd announced in an earlier newsletter that, yes, there would be a holiday yard decorating contest again this year. I just knew that I already felt like a winner putting everything up like I did.
Then when I found out there would be one? Of course I hoped I might win it, but I was pretty sure our across the street neighbor would nab the honor again. He does a BIG light display.
But last week I came home from running errands to see the sign in our yard and I had never been more excited.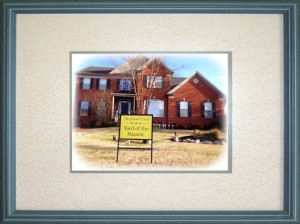 Two things were on my When I Get Well list I made during the cancer days:
Decorate big for Halloween sometime – Check!
Decorate big for Christmas sometime – Check! Check! (It's not Great Big Christmas Light Fight worthy, but…it's the biggest display I've ever done –and it won me an award! Because not only did we get the sign honor, we got a $75 gift card! I know exactly what I'll be spending it on too!)
That's why I'm filing this one under "Excitement."
See It In Action
Here's the video I made of not only the Santa's Visit AtmosFX digital decoration, but our display too. Happy Holidays!