Chicken Soup For a Cause
I was already over the moon to have my story, "Kitty Bites," included in Chicken Soup for the Soul: My Very Good, Very Bad Cat: 101 Heartwarming Stories about Our Happy, Heroic & Hilarious Pets
, but when I got my author copies I was surprised to see something else: royalties from the sale of the book benefiting the American Humane Association.
Super cool.
Tab thinks so too.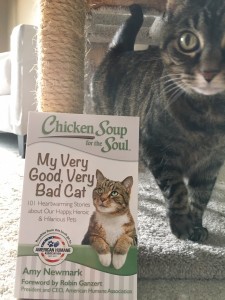 Even though "Kitty Bites" is about how her now-deceased brother, Mr. Meow, helped me battle my needle phobia during my cancer treatments, Tab thinks it's cool the proceeds help strays like she was.
And like Mr. Meow was. Both of them were stray cats.
Mr. Meow' Stray Story
Mr. Meow was abandoned by people living in the same apartment community as we were back at that time. They moved out and left him to fend for himself.
I felt bad for him because he always seemed like such a funny cat. He would always be out on the screen porch "chasing" Budly, our dog at the time, when we walked by. He was quite the character.
It was Fall. I started carrying baggies of cat food in my jacket pockets, hoping I'd see him. When I didn't, I'd leave food in places I knew he frequented.
Then one night it happened. I saw him on a walk with Budly. I didn't know how he'd react to Budly without a screen separating them. Or how Budly would. But Mr. Meow marched up to me and rubbed my legs and tried to rub up against Budly, who wanted nothing to do with him.
I headed upstairs to put Budly inside, intending to come back with more food and water for the gray cat. Well, the gray cat followed us up the stairs and marched right inside with us.
And that's the story of how Mr. Meow adopted us one November night in 1999. He loved us until his end in January 2015.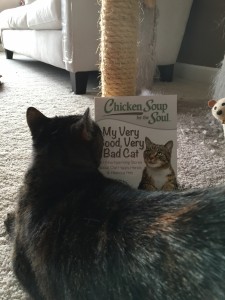 Tabby's Stray Story
Then came Tabby. One cold Friday February afternoon I was heading to run errands when I saw the SUV in front of me straddle something in the middle of the road. I knew it was an animal, but I was so shocked to see it was a live animal when the little cat turned her head to look at my car.
In a flash, everything happened so fat. My heart melted with recognition and a voice whispered, "Stop! That's your family!"
I checked my rear view mirror to make sure the car behind me could stop in time if I slammed on my brakes, which is what I did next. I put on my flashers and hopped out of the car.
I approached the little cat with the big, scared eyes and said, "Are you hurt? I'm going to pick you up as gently as I can…"
Then I knelt down, aware now that traffic had stopped on the other side of the road too. A kind soul saw what I was doing and held up her side until I assessed the best way to pick the cat up and safely nestle her in my arms.
I put her in the backseat of my car and sped to the nearest animal hospital. Which was only a couple of miles away.
And that's how Tab Tab (aka Lady Tabitha Tabernathy Tabberkins Pryor) came to live with us as our Tabby girl.
So while I never had to officially "adopt" a cat from a shelter because we've so far managed to attract strays, I know organizations like the American Humane Association do such great work and I'm tickled pink that something I wrote is in something that's supporting it.
For Dog Lovers
I know not everyone loves cats. If you're more of a dog lover, there's also a Chicken Soup for the Soul: My Very Good, Very Bad Dog: 101 Heartwarming Stories about Our Happy, Heroic & Hilarious Pets
. Your purchase of it also benefits the American Humane Association!