#ParaDayParT Post #1: Eye-Catching Paranormal Fiction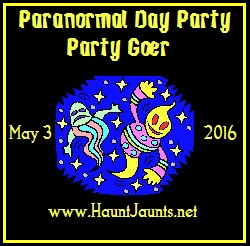 Today, May 3, is Paranormal Day. Over at Haunt Jaunts, I'm hosting a Paranormal Day Party. Everyone who signed up on the Guest List is supposed to linkback to the party invite post when they post their #ParaDayParT entry. Trying to follow my own rules!
Anyway, I thought it'd be fun to share some of the paranormal books that have caught my eye lately. In a couple of cases, some of the authors of these books have even signed up for the Paranormal Day Party!
Which did not influence the creation of this post. I would've written it anyway. You'll see why when you see the books. If they haven't already caught your eye and you've read them, I'm willing to bet you'll be adding them to your Wish List too.
So without further ado, let's check out the books!
I don't know what I was searching for on Amazon, but somehow this book came up. I'm a sucker for haunted house books, which is why the cover immediately caught my eye.
However, the other thing that caught my eye was how many good reviews it had. How had I not heard about this book before?
So of course I clicked it to check it out. The first words in the synopsis are enlarged and instantly hooked me: "Could you survive a week in a haunted house?"
Add to Wish List? Why, yes, I think I will, thank you very much. (I think I've since purchased it and have it waiting for me on my Kindle.)
However, this wasn't the only Darcy Coates work to catch my eye. On to the next…
Yep, another haunted house book. The description for this one started out "Some houses breathe…"
And that's all it took to sucker me. Another one added to the Wish List. (Which I think has also since been added to the Kindle.)
While we're on Darcy Coates, here are a couple of her Kindle short stories that also caught my eye. Both have also been added to my Wish List.
Crawlspace: A Horror Short Story
The Mannequin: A Horror Short Story
This book caught my eye because it's a novel about one of the creepiest places on earth: Japan's Aokigahara forest. For whatever reason, it's been a super popular suicide spot for decades. (Maybe even centuries?)
Wikipedia sates it's one of the top three places to commit suicide in the world. (Which is a horribly upsetting stat to think about, but also makes you wonder who has the unfortunate job of classifying such sites?)
The Suicide Forest is also rumored to be the home to yurei, or angry ghosts in Japanese mythology.
And here is a novel about it? It had a ton of favorable reviews on Amazon, so, yep. Onto the Wish List it went.
But not only that, it's part of Bates' "World's Scariest Places" series. Here are the other books in that series:
The Catacombs (World's Scariest Places) (Volume 2)
Helltown (World's Scariest Places Book 3)
Island of the Dolls (World's Scariest Places Book 4)
Nathan actually submitted a story to be considered for the Shadow People and Cursed Objects: 13 Tales of Terror Based on True Stories…or are they?
anthology. His was among the ones I held for a while, but ultimately had to pass on. (SPACO developed a distinct flavor with the stories I ended up including. Sadly, I found myself turning down some really well written ones, like Nathan's.)
As an editor himself, he understood. When he published The Haunting of Lake Manor Hotel, he reached out and asked if I'd read it. I liked the premise —13 Rooms. 13 Guests. 13 Stories.— so I told him I would, and he obliged me with a copy. I think it's a neat concept for a book, and am looking forward to indulging in it.
I stumbled across this one when I saw that one of SPACO's authors, Emerian Rich, had a story in this newly released "horror fairy tale anthology." The cover, the title and the tagline all instantly grabbed me.
Then I read the description:
Once Upon a Scream…there was a tradition of telling tales with elements of the fantastic along with the frightful. Adults and children alike took heed not to go into the deep, dark woods, treat a stranger poorly, or make a deal with someone- or something-without regard for the consequences. Be careful of what you wish for, you just might get it. From wish-granting trolls, to plague curses, and evil enchantresses, these tales will have you hiding under the covers in hopes they don't find you. So lock your doors, shutter your windows, and get ready to SCREAM.
Well that sounds like frightening fun. Wish List, make room for one more!
Which of them catch your eye? Maybe you've even read some?