Two Exciting Chicken Soup for the Soul Developments
I've shared this news on my personal social media accounts, but I'm bad about utilizing my personal blog to shout out developments in my writing life. (Honestly, Haunts Jaunts is all-consuming this time of year. Especially because I'm working on rolling out two major expansion projects for the Fall 2017 Halloween season.)
However, I am very excited about two Chicken Soup for the Soul related developments.
1. "OMG! That's my story!"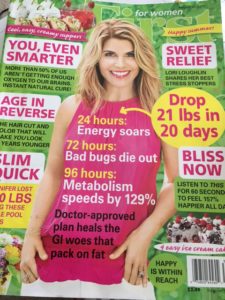 There I was, unwinding with an issue of First for Women one evening last week. (Specifically, the August 21, 2017 issue.)
I'd just finished the Word Search, read the horoscopes (maybe not in that order, it's a little blurred now), when all of a sudden I turned to a story at the back. (This part is not blurred. I'm not sure it ever will be. It was just too exciting!)
I read the biggest headline: "Learning to love my thunder thighs." Of course it instantly piqued my interest because I had written a Chicken Soup story about that. (For Chicken Soup for the Soul: Curvy & Confident: 101 Stories about Loving Yourself and Your Body
.)
My eyes drifted to the next biggest section on the page: the sidebar box.
"Suddenly I was living a nightmare. Me. Dripping wet. Thighs totally exposed. The center of attention"
I stated to get a little mad.
What  the hell? Someone's written –or stolen– an article very similar to mine...
I started reading the subheading under the main title. That's when pure excitement about propelled me off the toilet seat without wiping. (Okay, there it is. A stark truth I left off of Facebook. Yes, I was doing some Loo Reading While I Pooed. #OwningIt)
Anyway, why the excitement? Because no one had stolen my story. It was my story!
On the rare occasions Courtney Lynn Mroch wore a bathing suit, she made sure she had a cover-up to hide her thighs. So how did she find herself meeting her husband's new friends dressed only in her swimsuit?
OMG!!!!
It was featured in a national magazine! My story!
The crazier thing is, I was just thinking days before this that I wished Womans' World still published Chicken Soup excerpts. I used to love them. (And thinking about it now, that's probably why I was finally successful getting something accepted by the Chicken Soup editors. Classic writing advice: know your market.)
But I was thinking how exciting it'd have been to see my story in the magazine.
Then this happened. (Ironically, First for Women is owned by the same company as WW.)
So…yeah. That was pretty amazing.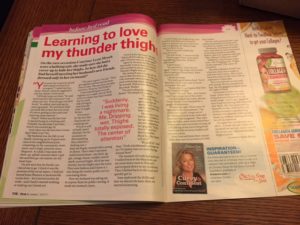 2. Through to the First Phase of Step Outside Your Comfort Zone
The day after realizing my Curvy & Confident story was in First for Women, I got the email saying I'd made it to the first selection phase for another Chicken Soup book.
I submitted two, but the story that is under consideration is "That Time I Dressed Up Like Marie Antoinette and Got a Radio Show."
I didn't mean to look like the ghost of Marie Antoinette, but that's how the costume turned out.
It was last year's Halloween costume. It was also the one I wore to HAuNTcon at the beginning of this year. It was a hit!
Going to that conference, stepping outside my comfort zone, dressing in that costume really was what led to me getting my radio show on ParaMania Radio. And that has been a game changer. But that's for another post…
However, it's also a fun coincidence that, should my story get accepted, this book's release date is October 31, 2017. a.k.a. Halloween!
Note: Seconds after hitting publish on this I got an email that my story, now titled "Just Ask," has made it to the final round consideration!