Year in Review: The Shows That Turned Me On In 2017
What were some of your favorite movies and TV shows in 2017?
I got to thinking about the shows I enjoyed the most for whatever reason. Be that I binged them like mad, they made me think, they stuck with me, or some combo thereof.
So without further ado, here's my list. In alphabetical order, not ranked. I'd love to know which shows you enjoyed most in 2017. Leave me a comment and let me know.
13 Reasons Why – Netflix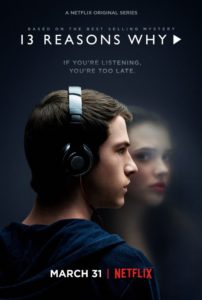 This series was so painful to watch, but not because it was poorly done. No, the acting was great. It was the fact that it hit so close to home. Luckily I never had a bad rep to overcome, but I definitely had to deal with feeling ostracized and picked on by people in the "In" crowd. (But in my case it was middle school, not high school.) I was humiliated to the point I wanted to commit suicide. I even made a lame attempt, but luckily I had no idea what I was doing and it totally failed. Just a few short years later my life improved dramatically. If I had a time machine, I'd go back and tell the 12-year-old me to put those pills down, go cry in your pillow, but be brave. You're going to grow up, meet the love of your life, go to college, get married, know awful sorrow but also astounding joy and you'll see this is just a blip. You will not only survive this, but thrive in part because of it. I wish all kids contemplating suicide could have their future selves go back to talk to them them. Including the fictional heroine of this tale.
American Vandal – Netlfix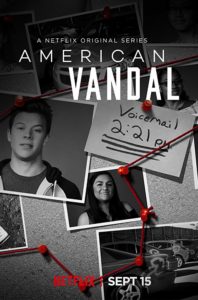 I don't know why this one even interested me, but once I started watching, I couldn't stop. A very clever mockumentary that showcases the art of good story telling. At its heart, it was a whodunnit. Did Dylan really spray paint all those penises on the cars? From a writer's perspective, this was a study in how to masterfully use hooks and cliff hangers. The new info that would come to light and other suspects and motives that would be alluded to at the end of each episode really sucked me in. It also helped that episodes were bite-sized at 30 minutes, making them easily digestible.
Beauty and the Beast – Theaters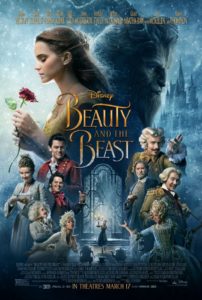 Until Tangled, Beauty and the Beast was my favorite animated Disney movie. I wasn't sure how I felt about a live action version, or Hermione Granger (yes, I know her name is really Emma Watson) as Belle. But it's Disney. How many flops have they had? (Yes, some I know. No studio can get it right every time.) Thankfully this was a time they totally nailed it. I still think I prefer the animated version better, just because I'm loyal like that. But I wasn't complaining or disgusted watching this. The romantic in me was enchanted.
Dark – Netflix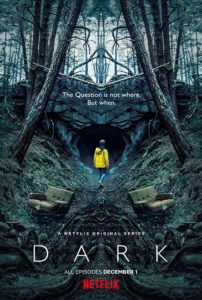 What in the hell was going on in this show? Right from the beginning I was reeled in like how Stranger Things did. First Dark is is in 2019, then back in 1986, then fast forward again to 2019 with the older versions of characters from 1986. But then it went even further back to 1953 and younger versions of some of the characters from both 1986 and 2019. Confused? It may sound that way if you haven't seen this one, but it all makes sense as you're watching. Super show out of Germany. (It's dubbed in English so if you avoid foreign shows because you don't like to read as you watch, you're spared that with this one.)
Good Girls Revolt – Amazon Studios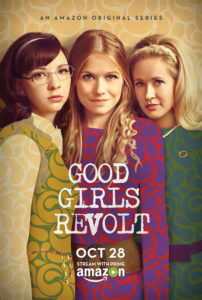 This has been on Amazon for a while, but I only just watched it at the tail end of 2017, right when the #MeToo Movement was picking up steam. Super timely. This show is all about inequality in the workplace as three female co-workers at a news magazine in the late 1960s navigate their personal and professional lives, which also includes joining together to file a law suit against the company for discrimination. The cast is absolutely fantastic. Genevieve Angelson is the spunky and free-spirited hippie go-getter. (I loved her character and I hope this helps launch an amazing acting career for her.) Anna Camp (maybe most recognizable from Pitch Perfect) plays the well-heeled girl from a good family who struggles to reconcile what's expected of her with what she wants. Erin Darke is a married woman trying to be a good wife, but who loves working and is not ready to settle down into a more traditional role. As I was writing this, I happened to learn Amazon Studios cancelled Good Girls Revolt after its first season (which appears to have been release in 2015.) WTH? Netflix needs to buy the rights to this one STAT! It totally fits their model of strong-women series. Or Amazon needs to reconsider and bring it back. They're missing prime marketing opportunities with current world events. Plus, it was a phenomenal show and I want to spend more time with the characters!
The Handmaid's Tale – Hulu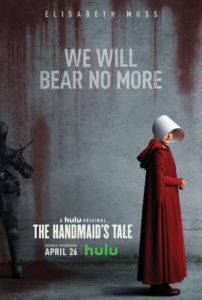 I hated this book when I read it for a Women's Study class in college. I mean, the book was fine. I was able to read it. I just hated the whole concept. It seemed too disturbing and unrealistic. I didn't care for Hulu's adaptation of it either –for the same reasons. I feel some of the story line is too dramatic and far-fetched. I wished I'd written down examples as I watched. Still, I was able to suspend my disbelief for two reasons:
Elisabeth Moss. She's such a great actress. There's just something so captivating about any performance she's behind.
Trump is proof women would rather bow to a man's insanity than stand up for themselves so, yeah, a dystopia like the one in this story may not be so far-fetched after all.
And that last point is why I don't like this, yet still watched. It makes me uncomfortable, and also ashamed I'm not speaking up more. (Something I've resolved to do more of in 2018.)
The Keepers – Netflix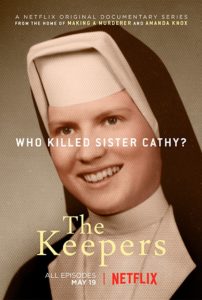 This documentary made me mad, it made me sad, it made me cry. I could not stop watching. Then I told Wayne about it and he was so intrigued he started watching. So I watched again with him. He did the same thing I did: devoured it. It was the most appalling, disturbing, disgusting murder case I've ever heard about. The murder itself is actually not that bad. It's awful, yes. It's still unsolved, yes. But the extenuating circumstances and the likely motive for Sister Cathy's demise are what make it so horrific. This was another topic that hit close to home. Not that I was ever molested by a priest, but I was molested by someone who was supposed to be caring for me. My heart totally sympathized with all the girls who had been violated in such an unthinkable way.
The Kettering Incident – Amazon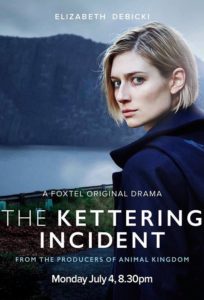 I saw this on Amazon Video this year, although I believe it was actually released in 2016. Either way, this one was like Dark. All I could think as I was watching was, "What in the hell is going on?" I actually could not stand the main character. She grated on my nerves quickly and I just wanted to smack her, but that's part of what hooked me and sucked me in. Was she ever going to get the answers she needed so she wouldn't be so screwed up? And what was happening in Kettering? What had really happened all those years ago? Aliens? Or had she killed her best friend? There better be a season 2 to this one to answer some questions!
Mindhunter – Netflix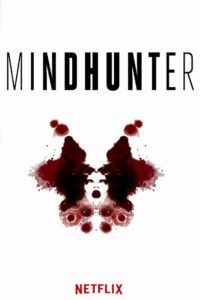 This show creeped me out without exactly scaring me. Monsters. There's an interesting concept. They're more than nameless, faces entities lurking under beds and in closets. Sometimes they're real people. People who seem so normal, and in fact pass for normal, for years before their evil reveals itself. The two FBI agents in this show seek to understand what makes real-life monsters who kill more than one person tick. It's set in the late-1970s and follows the birth of a new field in criminal justice: the tracking of serial killers. But first the phenomenon of a "serial" killer has to be accepted. Sometimes I get tired of the serial killer genre, but this breathed a whole new interesting life into it.
Wonder Woman – Theaters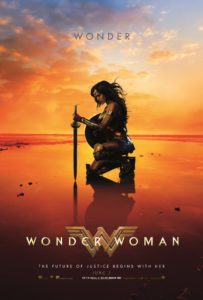 As a kid, this was my favorite show on television next to Scooby Doo. How many Halloweens did I dress as Wonder Woman? I was not excited about this movie coming to the big screen. Lynda Carter is Wonder Woman. Period. Leave it alone. Yet, thank goodness my opinions matter naught because this was such a fun movie. The CG was a little over the top in some cases, but the idea of a woman who speaks her mind, is fierce and actually physically superior to any man, inspired me more than I expected it to. Gal Gadot definitely did justice bringing a strong, yet still sexy without being slutty, WW to life. Totally filled the boots and then used them to kick major ass. And in an ironic twist, it was around Halloween when I saw this on DVD. Awakened the little girl inside me who admired all the things Wonder Woman stood for and reminded me everyone woman has that power inside of them. Even me. I just need to unleash it. Another goal to strive for in 2018.
Okay, your turn. What turned you on in 2017?