The Faces of Friends Stricken by America's Healthcare Situation
A few months ago I became aware that a blogging friend I know via Haunt Jaunts, Lon Strickler of Phantoms & Monsters, was grappling with a serious life issue. His wife of 30+ years, Vanessa, had been diagnosed with cancer.
This week I became aware the disease is not only threatening her life, it's threatening their finances.
On HJ today I put out a call for help. Lon has set up a GoFundMe account for Vanessa's Medical Support. I donated and am asking others too also.
If people read the call for help and can't contribute financially, I'm asking they share this story. Perhaps it will reach others who are in a position to contribute.
WHY I CARE
Besides the fact I consider Lon one of the kindest people I've ever met, I'm extraordinarily sensitive to the fact that Lon and Vanessa have been married 33 years.
A good love story. It gets me every time.
The romantic in me wants to see this story have a happy ending. One where Vanessa gets better and they go on to share many, many more anniversaries together.
THE REALITY
We live in America. Supposedly we're not a Third World country but…people not only die, but become financially destitute, in a fight to stay alive.
Vanessa and Lon now find themselves in the situation of having depleted their resources to fund her care.
I'm pretty happy-go-lucky, but this is one of those things that infuriates me.
MIND BOGGLING
I battled my own cancer during the Great Recession. There were lay offs at my husband's job. We feared he'd be among them. By the grace of the Universe he wasn't.
We had insurance to cover our $200,000+ worth of bills that were racked up trying to keep me alive.
Something that boggles my mind to this day. Besides our house, we've never spent that kind of money on anything.
Nor would we, because why would we? Other than housing what would we need to spend hundreds of thousands of dollars on? We're regular folk. Not celebrities living a lavish lifestyle.
THE OTHER QUESTION
The question that haunted me back then –heck, even haunts me now– would I even be alive right  now if we hadn't had insurance?
Where would we have gotten the money to pay those bills? Loans? Would it have been worth it to put ourselves in crazy debt to keep me alive?
(Some of you may find this question appalling. You must be lucky not to be married to an accountant. The sad fact is that if the treatments had no chance of a cure, we very likely would've opted not to spend money prolonging the inevitable. But that's a post for another time…)
DEATH, DISPARITY & THE AMERICAN DREAM

What I want to address today is death, disparity, and the sham of the American Dream.
I started chemo treatments with people who chose not to finish them. Yes, you read that right. Chose.
Not because they didn't have hope of being cured –they couldn't afford to be cured.
Death was preferable to debt.
In some cases their health had resulted in lost jobs. In some cases the economic downturn resulted in their lost job. In all cases involving no job, it meant no insurance and no way to pay for treatments.
THE VETERAN
My first chemo treatment was hell for many reasons. However, there was this other patient who was "in" for another type of cancer, but wasn't many chemo treatments ahead of me. However, he had a couple under his belt, so in my eyes he was a veteran.
He saw my panic. He talked me off my fear-ledge and made me feel comfortable sitting there so vulnerable in the group drug administration room with all those other patients.
I showed up looking forward to seeing this other patient each time. My fourth chemo treatment in especially. That was when I was feeling like the veteran, as well as starting to fell my Hitchhiker hitting the road.
He wasn't there, but he should've been. I asked one of the nurses about him. Her face fell in that way it does when people know terrible news they don't want to share.
My heart sunk. I thought he'd relapsed and died.
"He's not seeking treatments anymore. His insurance expired. He has no way of covering the costs."
UNACCEPTABLE
It's all a story on the news, hype by politicians –until you meet and get to know someone stricken by America's healthcare situation.
Healthcare. Ha!
What a joke that is. There is no care unless you can pay.
Yes, even now with HealthCare.gov insurance (call it Obamacare if you must), you can still go bankrupt trying to save your life.
Because there are still fees you have to cover. Deductibles and the like, you know?
They add up. $12,000 to some can feel like that $200,000 to me.
This type of debt is NOT okay.
There are enough Catch 22s in life. Bankruptcy vs. treatment/life should not be among them.
So why is it?
That's something I'll ponder for another day too.
SHARE & SWALLOW OUR PRIDE
Today I donated to Vanessa's Medical Support. Not just money but also a little time to spread the word about her & Lon's situation.
I know they had to swallow some pride asking for financial contributions.
I Googled the lyrics to two songs that came up when thinking of songs having to do with helping each other:
Nickelback's If Everyone Cared, and
Lean on Me (first written and performed by Bill Withers, but I became acquainted with the Club Nouveau version).
If everyone cared and nobody cried
If everyone loved and nobody lied
If everyone shared and swallowed their pride
Then we'd see the day when nobody died
And I'm singing

Amen I, Amen I, Amen I, I'm alive
Amen I, Amen I, Amen I, I'm alive

Lean on me, when you're not strong
And I'll be your friend
I'll help you carry on
For it won't be long
'Til I'm gonna need
Somebody to lean on

Please swallow your pride
If I have faith you need to borrow
For no one can fill those of your needs
That you won't let show
Curious that both mention the swallowing of pride.
Americans are a pretty generous lot really. We do seem to jump in to lend a helping hand when we learn of those in need.
Too bad it's often to combat greed-created scenarios. (Greedy drug companies, greedy bottom-line driven insurers, etc.)
Maybe one day we'll sing loud enough to change things and make it so that everyone who needs care can receive it without worry of enduring financial hardship. Or, worse, choosing between healthcare and death.
MEET LON & VANESSA
Maybe you've heard other stories of healthcare-induced financial crisis. Maybe you even know people facing it.
But what if you don't? What if their stories are just about nameless, faceless people?
Well…here are the people in the story I'm sharing.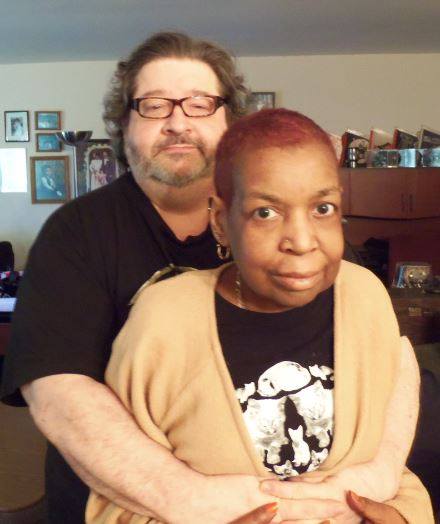 See their faces. Read some of Lon's posts on his blog.  Hear his voice on his podcast via the archives. (The show is on hiatus due to Vanessa's health.)
Get an idea of who he is. Who they are. Imagine yourself wearing his shoes.
And before you say some arrogant thing like, "That could never happen to me," zip it. Unless you're a millionaire, you don't know that. It could happen to any of us.
So until America's broken healthcare situation is fixed, we need to lean on each other. Help one another out. Keep each other alive.
Amen, I. Amen, I. I'm singing Amen I'm alive…and want to help others achieve the same.
Won't you sing with me?