Tennis Superpowers
Last season, Fall 2013, was my 1st season to be captain of a NALTA (Nashville Area Ladies Tennis Association) team. That's bigger than USTA leagues here in Middle TN. (In some places, USTA is the thing.)
But I have also been a captain of a USTA team here in Nashville. In fact, in 2012 we won our local league, went to State, swept it, then went on to Sectionals where we finished 3rd. Not too shabby for not really knowing what I was doing. (Story of my life. I always seem to do better that way really.)
Anywhoo…with any job, including being captain of a ladies tennis team, there's always paperwork. I had a handy USTA folder I got when we went to Sectionals. I keep YMCA league score sheets, schedules, player and sub lists in it. (And of course kept USTA stuff in it too.)
For NALTA last season I just used the manilla folder our division's coordinator gave us when we got our schedules and such.
The captain of the first team we played last season gave me a great tip: keep stamped, addressed envelopes on hand. (We email our scores to our division coordinator, but also mail in the hard copy score sheets.)
That was some very good advice.
I noticed a few of the other captains we played corralled all their paperwork with binders. Kept everything neat and tidy.
Most of them had their team names on their binders. But one also had a picture of their home tennis court.
That gave me an idea. One I finally acted on the other day.
I created a Servivors team binder. (That's our name, the Servivors. One of our clever teammates, Susan, came up with it because it has a double meaning. A few of us are cancer survivors. But we also need to earn a certain amount of points as a team to stay at our level, which is B4. We're always just barely earning the minimum to "survive" and stay in B4.)
I went out to Flickr Commons and stumbled across a great photo. I paired it with one of the many amusing sayings I've seen on various tennis merchandise on Zazzle, put it all together in Word, and voila! The Servivors now join the ranks of teams with organized paperwork holders!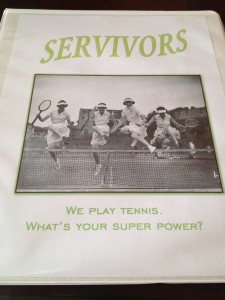 I also created a graphic using just the photo.